MA "Cultural Heritage and the Protection of Cultural Property"
Welcome to the website of the MA in "Cultural Heritage and the Protection of Cultural Property". Here you will find information concerning the programme, the application procedure, the courses offered, opportunities for discussion and exchange, and important documents and links.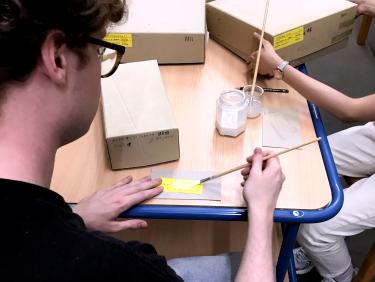 As an overarching goal, the program aims to guide and support students in developing their own academic and professional profile in the field of cultural heritage and the protection of cultural property. In doing so, the field of cultural heritage and cultural property protection is to be covered in its entire breadth, whereby students at Heidelberg University can draw on a wide range of courses from the numerous subjects that deal with various forms of tangible or intangible cultural heritage. In lectures and seminars, students acquire the theoretical and practical foundations for dealing with cultural heritage. Teaching imports from the field of law as well as events with cooperating investigative authorities (Federal Criminal Police Office, State Criminal Police Offices, Customs) impart basic legal and criminological knowledge on the protection of cultural heritage. A natural science component covers the areas of material analysis (forgeries) and digital heritage. Internships at the cooperation partners (museums, world heritage sites, heritage offices, international organizations) provide practical skills (mediation and presentation of cultural heritage, heritage management) as well as insights into the requirements of the job market. Practical courses of the HCCH, which are often carried out together with non-university cooperation partners, impart key competencies for dealing with tangible and intangible cultural heritage as well as its handling.

Master of Arts

Start of study in winter semester

Full-time programme, 4 semesters, part-time option

Language(s) of instruction German and English

Tuition and fees 171.75 € per semester

Research stays & internships abroad integrated into study program